Tours of Pakistan Bikers
Choose your favourite destination
Pakistan is the best place for motorcycle riding, with some of the best motorbikes routes on the planet. The diverse cultures, astonishing scenes, and hypnotizing mountains will make your ride memorable. You can look over our wide range of tour packages and witness the true beauty of Pakistan.
Pakistan is home to numerous wonders and landscapes like the world's highest mountains, lakes and other. Deosai Plateau is one of them which is the world's second highest plateau and its wonderful scenes are similarly engaging. Deosai Plateau is situated at an average elevation of 4,114 m above sea level. Deosai literally means 'the land of Giants' in Urdu. This place is surely a paradise for nature and adventure lovers, and riding on a motorcycle towards here would be a lifetime experience.
US$ 1,665
10days
Jul to Oct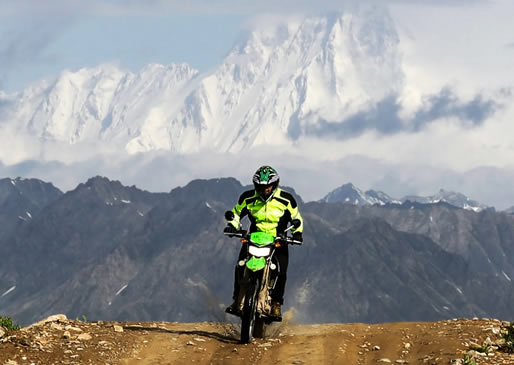 Designed explicitly for those who would love to witness the true beauty of Pakistan thoroughly. You can behold the wonders of Pakistan especially the northern region, including the wonderful views of the mighty Karakoram, Himalayan and Hindu-Kush ranges while riding on the Karakoram Highway —highest paved international road in the world. The journey will start from riding towards the Swat Valley, known for its beauty and ancient Buddhist ruins.
US$ 2,595
16days
May to Oct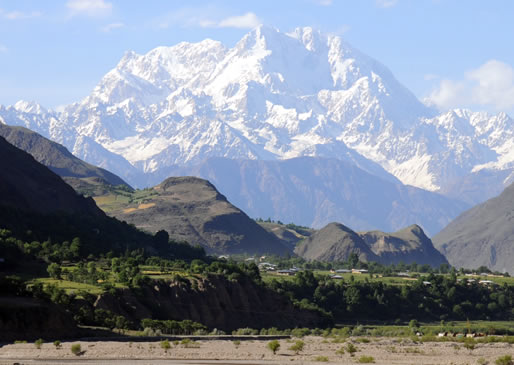 Our most selling tour! The compelling Karakoram Highway is one of the most elevated paved highways on the planet, crossing the Karakoram mountain extend at the greatest rise of 4714m near Khunjerab Pass. This thruway associates the Gilgit Baltistan locale to the more noteworthy old Silk Road. On the Karakoram Highway, we will navigate through the Khunjerab Pass which is the highest paved international border crossing in the world and the highest point on the Karakoram Highway.
US$ 1,015
08days
Mar to Nov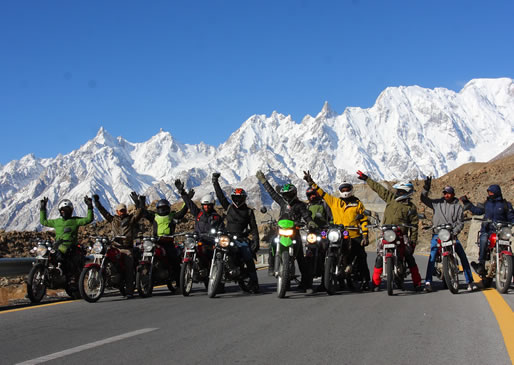 It is often said that a rough road leads to the height of greatness. This journey is planned particularly for off-road lovers; who really like outdoor adventure. The wonders of Shimshal Valley must be seen after riding on one of the world's dangerous and technical roads. This is the place where you can experience the best 50 km of off-roading through the rocky and lofty mountains. Particularly, Shimshal is known for the well-known mountaineers it has produced.
US$ 1,485
09days
Mar to Oct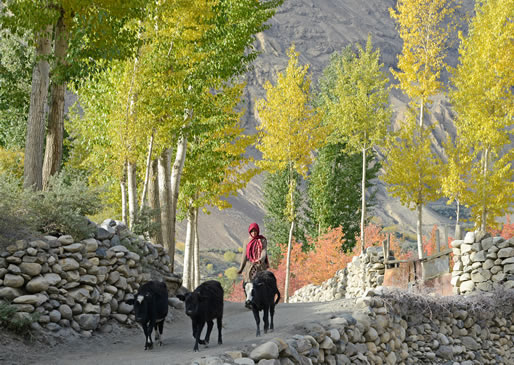 Traverse the remnants of Alexander the Great on two wheels. Pakistan is well-known all over the world for its diverse culture. During this journey, you will get a chance to witness the hidden beauty of Chitral located in the Khyber-Pakhtunkhwa province of Pakistan. Packed with 40 peaks above 6000m including the mighty Tirich Mir 7726m—the highest peak of the Hindu Kush, you will surely enjoy the scenery.
US$ 1,675
10days
May to Oct